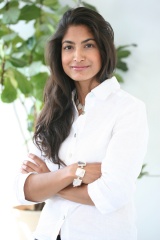 Name: Natasha Arora
Age: "Ageless – like my sense of style."
Occupation: Interior decorator
Bio: This boisterous yet refreshingly erudite former public relations worker had been redecorating homes as a hobby for just under a decade before deciding to go whole hawg and turn pro. An energetic lass, Natasha says the first time she was moved to redecorate was while visiting relatives in New Delhi, and, after spending a few days in their disheveled digs, "I just had to do something. So I got everyone involved, I made little corners more cozy, brightened up the dark areas, just made the space more convivial. You know, even as a child I was always very tidy, proper, composed. This [profession] is definitely inherent to my personality. And I excel. I love it. Energizing these rooms completely energizes me and that energizes my clients. Positive energy."
Not just your run-of-the-mill interior decorator, Natasha's shtick is she'll totally re-do your digs in one day, "with no buying new or throwing anything away," employing only the crap you already have to "re-energize your home or office."

The guiding force behind her decorating ideas: Intuition.
Might this intuition possibly emanate from restless spirits floating around any given space trying desperately to communicate their home deco tips to her? Possibly. "I feel things. I feel things in the space I'm in and whether or not I'm comfortable, and work from there. But it's true, this urge I have to decorate, sometimes it's bigger than me, stronger than me. It really is this weird force."
Where she studied interior design: The school of the street, baby. "But I'm definitely a design enthusiast, a creative person, I'm artistic and I have an eye. Or better, let's say I'm developing my eye, it sounds less pretentious that way. I just really believe in maximizing and embellishing things when possible and I love beauty. And I like order. Order is a very big thing for me."
Has she ever been diagnosed obsessive-compulsive? "Not diagnosed as such, per se, but I am a bit obsessive-compulsive. Not like super-freakazoid though."
Last book read: Essays in Love, by Alain De Botton.
Fave newspaper: The Financial Times.
Musical preferences: "Everything."
Words of wisdom: "Pamper yourself."
For more information on Natasha's services and to inquire on her hourly rates, visit natashaarorastyling.com.
Featured image: Plancher en bois-franc Déco Surfaces