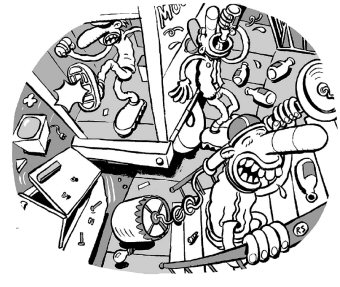 It's that time again: Montreal's ridiculous July 1 moving-day ritual is almost upon us, and those who've yet to hustle up a moving company or secure a U-Haul truck are no doubt growing increasingly desperate. And should you discover you've hired a shady, surly or incompetent mover, this already stressful ordeal can become a bona fide nightmare.
Everybody knows somebody with a moving day horror story to tell. My own, while not exactly horrific, is indicative of the perils that may await you.
Earlier this year, I secured a mover via Craig's List to relocate my elderly mother-in-law from her tiny one-bedroom apartment in NDG to the senior's residence a few blocks up the street. "Moving Done Almost Free-E-E," the ad cried out at me. I called them up, explained how big the apartment was, how much furniture she had and how far she was moving. "No problem," said the guy on the other end of the line, through a heavy Russian accent. "For $250, we do the whole job, no problems, no matter how long it takes, same price, no problems."
Now you'd think I'd have recognized that whenever some service provider says "no problem" repeatedly, it's because problems are something they're quite accustomed to. And given that a "problematic" mover is the last thing one needs when relocating their elderly in-laws, I should have read the signs and bailed. But I didn't. "Sure, $250 sounds, well, a little pricey, but fair," I replied instead, comfortable that I'd now done my bit and could promptly forget about it.
Intimidation tango
Forget about that. Come 9 a.m. moving day, I get a call from my panicky mother-in-law telling me the movers have arrived, there's more stuff than they'd expected, and if she wants the entire contents of her apartment moved, she'd better be prepared to cough up some more money. And, please, can I come down and deal with it, these people are really angry and it's scaring her.
Great. So down to NDG I go to tell these pricks that a deal is a deal, that the agreed upon fee is more than fair and that's all they're getting. This, not surprisingly, doesn't go down very well, but the head brute recognizes I'm not about to be intimidated, and after a solid half-hour of yelling back and forth he admits defeat, grumbles something about the spectacular deal I'm getting, and instructs his slaves to continue on with the move.
Meanwhile, my poor mother-in-law is practically hiding under the bed from the stress of all the fighting. I eventually go back home, pissed at these guys for the attempted hustle but content that in the end all's well that ends well. Later, I discover that after I left they significantly overcharged my somewhat clueless mother-in-law anyway, and demanded that she tip the slaves quite handsomely to boot. She tells me her TV doesn't work anymore and she thinks she might have been ripped off. I tell her she was. Sorry.
Evading extortion
"We hear these stories all the time", says Marie-Hélène Beaulieu of consumer watchdog group Options consommateurs. "It happens every year. People often hire movers that they don't know from the newspaper classifieds, moving companies who haven't been recommended to them. And there are a lot of disreputable movers out there."
Beaulieu says going with someone you know is definitely the best course of action to take, but if that's not possible, you should verify that the moving company you hire is registered with l'Association du camionnage du Québec and licensed through la Commission des transports du Québec. "Ask the mover for their licence numbers and call up to verify they are correct. The registered movers tend to do a much better job, have stable addresses and be insured—all things that are really important if, after the move, you discover things are missing or have been broken."
Apparently, accepting a quote sight unseen is a sure-fire recipe for trouble, and not only because some movers deliberately offer a low quote over the phone knowing that they'll be hitting you up for more when you might find yourself in a considerably weakened bargaining position.
"It's really important to have a written contract with them," warns Beaulieu. "Never, never just accept a verbal contract with movers. You must tell them to come to your house and see what you have to move. Meeting them in advance also gives you a sense of who you're dealing with and leaves less room for a price dispute on moving day. Good companies will always send a rep to your house to offer a quote."
Eye spy
So what to do if you've already hired a potentially shady company to move you this July 1? "Several things", says Beaulieu. "First, as soon as they arrive, get them to write out your agreement on paper. If there's any problem later, that will hold up in court a lot better than a simple verbal agreement. And second, make sure you're there for the entire move.
Don't go out and eat for two hours and come back. You want to be positive everything that goes into the truck — boxes, furniture, appliances, air conditioning units, clothing… everything — comes out of the truck and into your new home.
"If you start realizing you're missing boxes two days later, it's hard for you to do anything about it. I don't want to say outright that the mover might be stealing from you, but we hear complaints like this every moving day. For the same reasons, move all your small valuables yourself—like jewellery or iPods—because these are the types of items most commonly stolen.
"Also," continues Beaulieu, "when the move is over and it's time for you to pay up and sign that you've received everything, just put a note on the paper saying 'subject to inspection,' so if something is broken or missing, you have legal recourse."
Cheque mate
And finally, if you've already accepted a verbal quote over the phone and find yourself being hustled for more money once your mover arrives on the big day, Beaulieu says to go ahead and write them a cheque but write "under protest" in the note section at the bottom left-hand corner.
"This indicates you're not happy with the service and don't want to pay them, but that you needed to get the job done and writing out this particular cheque was the only way of doing it. If you're in the right, you can go to court and be reimbursed. Doing this looks much better in court than writing a cheque and cancelling it the next day."
"Remember," she says, "if there is some dispute, the moving company isn't likely to just pick up and leave without moving you. After all, they need your money and won't be able to find a replacement job right away, the same way that it would be difficult for you to find another mover right away. You do have some power."