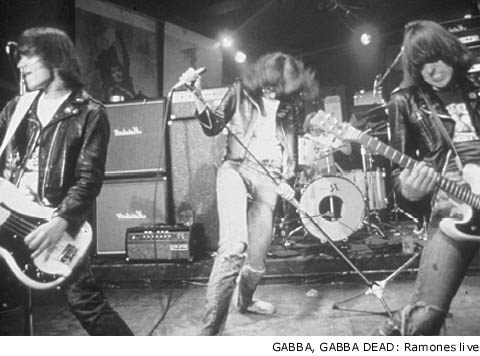 Six troubled years in the making, End of the Century: The Story of the Ramones is the definitive history of the punk band that was destined for fame and fortune but ended up mostly dead.
It's only been said about a million times before, but please indulge me while I say it for the millionth and first time: the Ramones should have been huge, the Beatles of their generation. Of course, it's no big surprise that it never really happened for them. When that first self-titled record of theirs came out in 1976, the all-important radio airwaves were dominated by unspeakably terrible music. People tend to forget that yer average kid back then considered rock 'n' roll to be Kansas, Styx, Journey and the Eagles. If you weren't around in those days and your primary source for '70s music culture is magazines like Mojo or all those VH1-type specials on television, you might think the decade was all about punk rock, the Stooges and Bowie (back when he still wore feathered earrings). But it ain't true, kids.
Fact is, in '76 most people had never even heard of Iggy, or the Dolls or anything even remotely cool. And for those few people who actually did know anything about them, most considered their music to be amateurish, a joke – if not simply ridiculous, then a sick and offensive bastardization of "real" music.
'Twas a terrible time to be devoted to rock 'n' roll, children. So you can only imagine what a joy it was to pick up the Ramones' debut album, slap it on your turntable and hear these four funny-looking guys brutally churning out songs like "Now I Wanna Sniff Some Glue" in a style that immediately made perfect sense, yet was unlike anything you'd ever heard before.
30 odd years after their formation, and with three-quarters of the original band dead, the definitive history of the Ramones started hitting the art house circuit by way of novice filmmakers Jim Fields and Michael Gramaglia's excellent documentary, End of the Century: The Story of the Ramones. Focusing primarily on the band's career leading up to the 1980 Phil Spector-produced End of the Century record, Fields and Gramaglia did a spectacular job of communicating the fascinating yet ultimately heartbreaking story of the brothers Ramone. Not so long ago I hooked up with Mr. Fields to yack endlessly about our mutual heroes and lament their demise…
Hey ho, we're broke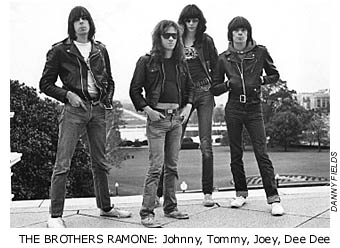 Chris Barry: To my mind the story of the Ramones is an incredible tale, right up there with the Beatles, or Elvis, or um, even Streetheart. These four genuine weirdos produced something completely original and eventually transformed rock 'n' roll.
Jim Fields: Well, it's a very unique story. They were a brand name. They changed pop culture or at least influenced it heavily, yet they weren't rewarded for it. They weren't successful, they toured in an old crummy van for 22 years. When they were named the second most influential band in rock by Spin magazine, Tommy's comment to me was, "Jesus, the Beatles are on top, the Stones are beneath us. All these people have million-dollar mansions, and here we are living like pigs."
CB: I understand it took forever for you guys to secure the rights to finally release this film.
JF: Yeah. The problem was a combination of our incompetence – or naïveté – with music rights, and being idealistic about just going ahead and making this film without any real ability to clear the rights. We had absolutely no money. We just took our chances. It was all messed up. We had problems getting rights partially because we didn't have any money to pay for them. But the biggest problem, I guess, was the band themselves. Mickey Leigh [Joey's brother] thought there wasn't enough Joey in the film, which we ultimately resolved after he found some extra footage for us, which was great and made us happy. And Gary Kurfurst, Johnny's [personal] manager was butting heads with us from day one. It seemed like he was against the movie coming out at all. He made it very, very difficult. Extremely difficult. Johnny would push him to get the film out, but then he'd be incapacitated for a while and Gary would have nobody to stop him [from screwing with us]. Still, I blame us really. We didn't sign a deal with the band before we made the film and left ourselves totally vulnerable to whatever Gary wanted to do. So he took advantage of that. I wasn't surprised.
CB: Do you think you'll ever make any money from this film?
JF: I guess there's always a chance, but I really don't, and never did, expect to make any money from this movie. I'm very happy with the results though. Sure, my credit is totally shot and I'm kind of screwed, but it'll all work out in the end. I used to be furious at them because they kind of ripped us off financially too, but what can I say? I didn't run a rock 'n' roll band for 22 years, maybe that's how it has to be. Johnny and Joey owned the Ramones and that's just how they managed it, how they made money. They were cheap. I'm really not that judgemental about them anymore. I've cooled off. I've chosen to forgive and forget, it's easier.
Dysfunctional and pigeonholed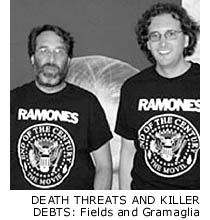 CB: I think the lyrics to the Ramones early stuff is absolutely brilliant, as profound as anything Patti Smith or Richard Hell ever wrote. Take something like Dee Dee's "53rd & 3rd", here's this truly original and organic artistic expression from this borderline idiot savant. But they don't get much credit to this end. Even in your flick there's not much mention of their lyrical genius.
JF: Well, we do a little bit, as much as we had time to. But I agree with you. That's one of the reasons why we wanted to do this film – because everybody thought they were a joke. They just didn't really listen to them, you know? People didn't understand where they were coming from and what it was really about. They never appealed to the masses in America. At the time it was kind of scary, too provocative, too shocking. They weren't pretty, weren't glamorous, kinda dingy, punk. And they got pigeonholed. And because of their dysfunction, they were so difficult that anybody who tried to help them wound up getting burned. So people walked away from them.
CB: Did you have to screen the film to all the parties involved in order to get the rights, and was that a huge pain in the ass?
JF: We did, but they weren't allowed to edit anything. The deal was, "You can pick two things you said from your own interviews and take it out. But you can't cut out anything from anybody else." We pretty much got to keep everything though. Johnny would try to take out a lot and we'd argue with him and in the end he'd go, "Oh all right, leave it in then." I mean, he wasn't very nice or very personable. But he was always easy to deal with because you could reason with him. Whereas, the other guys were out of control and hysterical. Everybody else would be like, "I'm going to sue you, I'm going to kill you." We went through hell.
CB: I bet it's nice to be done with it.
JF: Oh yeah, I'm so glad it's out of my life now, it just went on too long and it drove my wife crazy.
Originally published in the Montreal Mirror