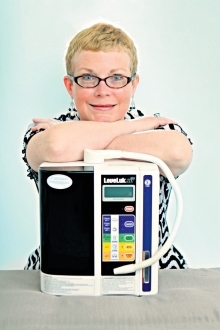 Name: Kathryn MacDougall
Age: "Timeless"
Occupation: "PH Water Diva TM"
Bio: Up until a few years ago, this markedly astute NDG gal was a senior executive on the corporate law beat, earning big bucks yet yearning nevertheless "to find something meaningful to do with my life." Forever researching ways to better reduce the volume of nasty chemicals coming into her family's household via cleaning products and the like, Kathryn stumbled upon a technology the Japanese have been championing since the '60s that supposedly transforms tap water into something called Kangen water, an alkaline-rich elixir alleged to slow down the aging process, detoxify, energize, hydrate like nobody's business and, of course, filter out all the considerable muck coming through your tap. After purchasing the notably pricey machine required for the process and being thoroughly blown away by the results, she started giving samples away to friends and, buoyed by their uniformly rave reviews of the supposed miracle water, soon realized "that this is what I want to do with my life," kissing the gentle world of corporate law goodbye forever to devote herself full-time to her new endeavor.
Is the tap water in Montreal really all that terrible to begin with? Doesn't Health Canada closely monitor these things so our species doesn't start growing fins and tails? "Actually, the standards for tap water are fairly high here, but your personal standard might be higher than that. There are traces of chemicals, metals, contamination from pharmaceuticals and, depending on the condition of your pipes, there might be iron, lead in it as well. Regardless, it's still definitely better than drinking bottled water."
Outside of being an outrageously stupid purchase that's downright insulting to the environment, what's so bad about bottled water? Much of it comes from taps anyway. "Bottled water is a billion dollar business with way less regulation than tap water and considerably fewer health inspectors monitoring what's going into the bottles. People think it's pure, clean water, when in fact tests show all kinds of problems with plastic leeching into the water, with bacteria, contaminants, it's very disturbing."
The claim about this Kangen Water gizmo she's hawking: "It's a machine you attach to your faucet that transforms tap water by projecting it through 230 watts of electricity and seven large electroplates. This transforms it to water with alkaline, which has a higher pH. Its smaller molecular structure makes it five times as hydrating as ordinary water. After three days of drinking it, my husband and I had way more energy; after five months, I'd lost 30 pounds, and I no longer feel pain from my two herniated discs. It's also a phenomenal cleanse for your digestive system, flushing your body of excess waste and toxins, hydrating and cleansing your colon like… it's amazing!"
Musical preferences: Thievery Corporation, Billie Holiday, Sinatra.
Last book read: A New Earth, by Eckhart Tolle
Words of wisdom: "I've learned that people will forget what you said, people will forget what you did, but people will never forget how you made them feel."
Contact Kathryn via essentialhealthpillars.com for details.