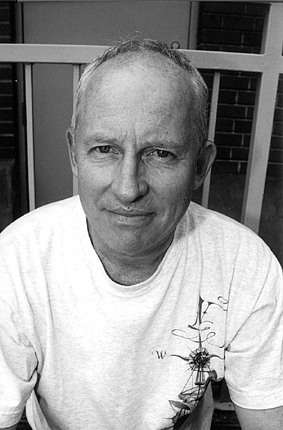 Name: Peter Hudgin
Age: 48
Occupation: Air traffic controller
Salary: Very good. "But it goes hand in hand with the training and responsibilities that the job entails."
Bio: This sassy Beaconsfield stud has been directing air traffic at Dorval airport since the tender age of 19. A first-rate handyman, he says his favourite way to relax is by taking on major home renovation projects and claims to be partial to Caesars and beer at his favourite watering hole, Jack Astors. He also enjoys the music of Celine Dion, "as long as I don't have to look at her."
Is being an air traffic controller as stressful as they like to make out in the media? No.
Is there much chance of error occurring inside the air traffic control tower? Not really. "But there are certain things that you must be very, very vigilant about—like issuing landing and take-off clearances. You better be 100 per cent sure that no other vehicles have been authorized on the runway."
Has he ever had any uncomfortably close calls in his career? "Yes, they're known as 'incidents.' Pretty well every air traffic controller has had them in various degrees over their careers."
What happens if you are partially responsible for an "incident"? You wind up at an administrative inquiry. "The purpose is not to discipline you but it is very intense. Essentially you are going on the witness stand."
Has he ever had to submit to a drug test? No.
Is smoking a big boomer before going to work a good way to get in the right headspace to direct air traffic? No. "You wouldn't last too long. You really have to be sharp at all times."
Has he ever worked alongside somebody whom he felt wasn't up to task? Yes.
Was he working last September 11? No. "I had just finished a long shift when it happened. I was in tears. Just the stupidity of running an airplane into a building."
Was his first thought, "Oh boy, some air traffic controller has just made a pretty big miscalculation?" No. "I knew right away that something had happened. I just kept thinking of the air traffic controllers in New York who would have been talking to these guys. It was very emotional for me."
Best part of the job: "Once your day is over you can really leave the job behind you."
Worst: The shift work. "It really takes a toll on you. It's always a treat having to work out these crazy schedules they give you with your family."
Something he is looking forward to: Retirement.
Hobbies: Playing golf, biking, water-skiing, sailing, going for long walks with his woman.
Last book read: Riding the Iron Rooster, by Paul Theroux.
Television preferences: The CBC Nightly Business Report, Discovery Channel, "any shows that chronicle old aircraft."
Words of wisdom: "Don't sweat the small things."