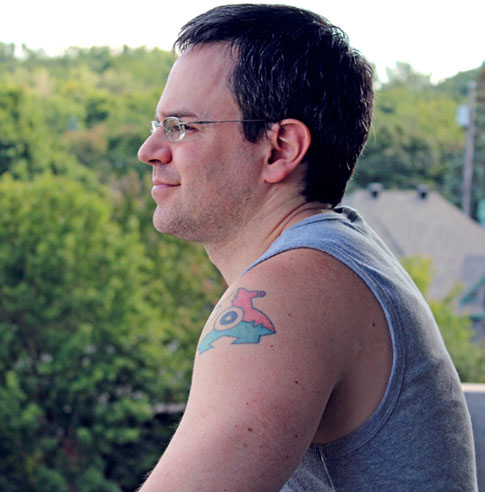 Name: Nicolas Lehoux
Age: 34
Occupation: Artist/musician/writer
Bio: This über-garrulous Plateau stud had been many years into a relationship with the same gal when he realized it was high time he started romancing other ladies. Given he was reading Sartre at the time and Simone de Beauvoir, a couple whose "open relationship" Nicolas found terribly inspiring, he decided it best to "be transparent" with his mate about his desire to round up a few extra girlfriends, "but she wasn't so crazy about the idea" and they eventually parted. With fellow "poly" and noted Québécois philosopher André Moreau serving as his mentor/guide, and after "opening myself up spiritually" through psychedelic drugs—he once hosted an Internet group called the Montreal Psychedelic Community whose members would gather to take "legal" psychedelics together—Nicolas soon "understood that polyamory was the way I had to live." The author of a book on the subject, Le Bonheur Absolu, and the founder of Polyamory Quebec, Nicolas insists polyamory is not just swinging by another name but "a lifestyle."
What's polyamory? The practice, desire or acceptance of having more than one intimate relationship at a time with the knowledge and consent of everyone involved. "It's an art of living and I'm an artist who tends to look at others like me as geniuses—Dali and Jung also had several women, you know. Many people can't do this because you have to be smart, it's very intricate, a bit like religion. It's not for everyone, but soon it's how we'll all live on this planet as we approach 2012, the end of the Mayan calendar and beginning of a new age. Many tribes live like this—the less civilized they are, the more they live this way."
Which gender tends to be most responsive to polyamory? "Men. Polyamory is how it works in the animal world and it's very good. It's how we humans will go back to living soon. I can't see how monogamous relationships will be able to survive after the big changes coming in 2012. I believe women will soon accept that men will have many women, even if they aren't tempted to have several partners themselves. People like me are teachers in a way, so when a woman comes to me, I can teach her to wake up and understand this type of relationship. But things are happening so fast now and the kids today are so smart, they'll soon not question entering into these relationships at all."
His current number of partners: Ironically, just one—for the moment, that is.
From his experience on the poly scene, how often does jealousy slip into the picture? "Jealousy happens, but, remember, you're in a group, so if you're unhappy, there're lots of people to talk to about it."
Does his family admire/accept his lifestyle? "I don't ask my mother—or anyone—for permission to live like this. I know she'd like this lifestyle herself, even if she can't quite process it. But she doesn't like when I talk about polyamory to her."
Musical preferences: Estrella Morente, Lila Downs, Paul Piché.
Last book read: In Search of the Miraculous, by P.D. Ouspensky.
Words of wisdom: "Aimer quelqu'un, ce n'est pas le garder prisonnier de notre amour, mais être fier de sa liberté devant nous, c'est vouloir son bonheur parce qu'on sait que sa seule présence nous comble de joie."
Originally published in the Montreal Mirror – 2012. For information on Nicolas Lehoux's current projects, visit http://nicolaslehoux.com/.